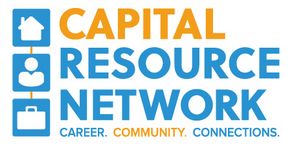 The Capital Resource Network (CRN) supports newly recruited employees and their families by easing transition stress and assisting to establish personal and professional connections. Offering exceptional diversity and inclusion benefits, the CRN helps to attract and retain the best and brightest from all over the world. 
---
Recruitment Services
Pre-hire Consult Tier 1    $200
Provides an introduction to the Capital Region and orientation to the CRN services.

Held via Skype, by phone, or in person at the CRN offices.

Generally a one-hour time commitment. 

   
Pre-hire Consult Tier 2    $400
A non-standard option providing a more personalized introduction about the Capital Region and the CRN.

Generally a two-hour conversation over a meal (included).

This service works very well in situations where the main hire is engaged in a full-day interview process and the spouse/partner is given the pre-hire consult.

Provides that extra touch to the standard service and recognizes that the spouse/partner is also an important part of the recruitment process.

    
Pre-hire Consult Tier 3    $1,100
A non-standard option providing the candidate with an in-depth, personalized introduction into the Capital Region.

A conversation over a meal (included) with the CRN team to answer critical questions based on the client's needs and interests.

Follow-up research and information if specific resources are required.

Tour neighborhoods of interest with a vetted real estate agent.

Generally a half-day commitment.

    
Recruitment VIP    $3,000
20 hours of service of support during the recruitment phase. 

Separate from the Full Referral, this is best used to assist the top candidate(s) and family during their campus/area visit prior to accepting an offer.

Customized service time (researching specific questions and needs, elementary school tours, professional introductions, etc.

Includes a meal at a local restaurant.

    
New Employee Services
Full Referral   $3,000
6 months or 20 hours, or for a dual CRN/POP client, 20 hours over one year. The hours are split between integration and dual career support, based on client's need. Services include:
The initial consult to identify transition concerns and priorities.

Dual career support: the CRN works directly with the spouse/partner of the new employee to develop multiple strategies for gaining employment in the region at a quicker rate through:

One-on-one coaching and strategy support 
Selective informational meetings (up to 3)
Professional networking opportunities
Feedback on resume and other written materials
Interview preparation
 

New Arrival Integration

: based on individual needs, the CRN will provide:

Monthly check-ins for up to six months

Insight on area resources

Access to volunteer opportunities with social events

Assistance with strategic introductions

Point of contact for information on schools, utilities, rentals, volunteering, community services and organizations, affinity groups    

 
Full Referral Premium    $3,125
Add-on hours    $1,500
10 hours of service towards integration or dual career support for 3 months.

    
Retention Services
Retention    $3,000
Dual career services only.

     
---
Recruitment and New Employee Welcome Products
Welcome Basket    $150
Includes a sample of local gourmet food products such as pasta, nuts, crackers, honey, UC Davis merchandise, and gift certificates tailored to the client's community and lifestyle. Every basket comes with a bottle of Heringer or UC Davis wine (unavailable in stores), and a welcome note from the department. 

Gift certificates may include but are not limited to: Bikram Yoga Davis, Turkovich Winery, Fleet Feet, Bacon and Butter, Purely Hot Yoga.    
Recruitment Basket    $125
Food products to be enjoyed during the candidate's campus visit. Includes bottled water, local nuts, fresh and dried fruit, veggie chips, gourmet chocolates, mints and other goodies to be enjoyed during the candidate's visit.

Baskets can be left at the hotel reception for the candidate's arrival.    
Aggie Swag Bag for Kids    $25
Playful Aggie gear ideal for children ten and under. Includes: a t-shirt, toy animals, pom-poms, drink tumbler, pens, bracelets, stickers, and more.    
Survival Kit (Basic)    $300
Kitchen and bath essentials.

Can be left in the client's new accommodation with a hand-written note from the department.

Ideal for people whose belongings are delayed in the move.