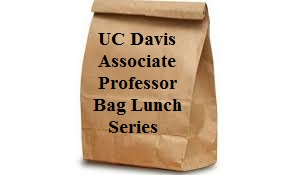 Associate Professor Bag Lunch Series
Associate Professors make up approximately 20% of our UC Davis faculty and serve a vital role in our campus community.  Academic Affairs is pleased to announce a Bag Lunch Series specifically designed for Associate Professors.  The series will cover issues identified by current UC Davis Associate Professors and Academic Affairs, including information and strategies for progressing to full professor.  "Emerging Topic" sessions serve as a placeholder for hot topics that could evolve into bag lunch sessions. 
Bag Lunch Schedule
The following dates have been established for associate professor sessions.  
We're in the process of scheduling events for the upcoming academic year. Please check back in September.
Associate Professor Forum
Meet fellow Associate Professors from throughout the UC Davis campus for an opportunity to exchange ideas and learn about the merit and promotion process, faculty work-life program and benefits, and service requirements and considerations. A complimentary catered lunch will be provided.  
---
Please send any questions or suggestions for topics to:
Lisa Brodkey
Director, Faculty Relations and Development
labrodkey@ucdavis.edu
(530) 752-7643